By car :
Parc d'Immercourt
Rue de Versailles
62223 Saint-Laurent-Blangy
GPS Coordinates :
Latitude : 50.3016
Longitude : 2.80165
By public transport :
To get to the site : take ARTIS bus line n°1, Mairie (townhall) stop.
To leave the site : take "Clair de Lune" shuttles (ARTIS company) :
– 3 departures from the MAPAD stop at the exit of the show site :
o 11h15 pm
o 11h45 pm
o 0h15 am
BUS ROUTES :
– Clair de Lune 1 to St Laurent, Ste Catherine, Anzin St Aubin as well as the Arras western district.
– Clair de Lune 2 to the ARRAS area behind the railway station, to Beaurains, Achicourt and Dainville.
All theses schedules will remain the same on the six dates of the show.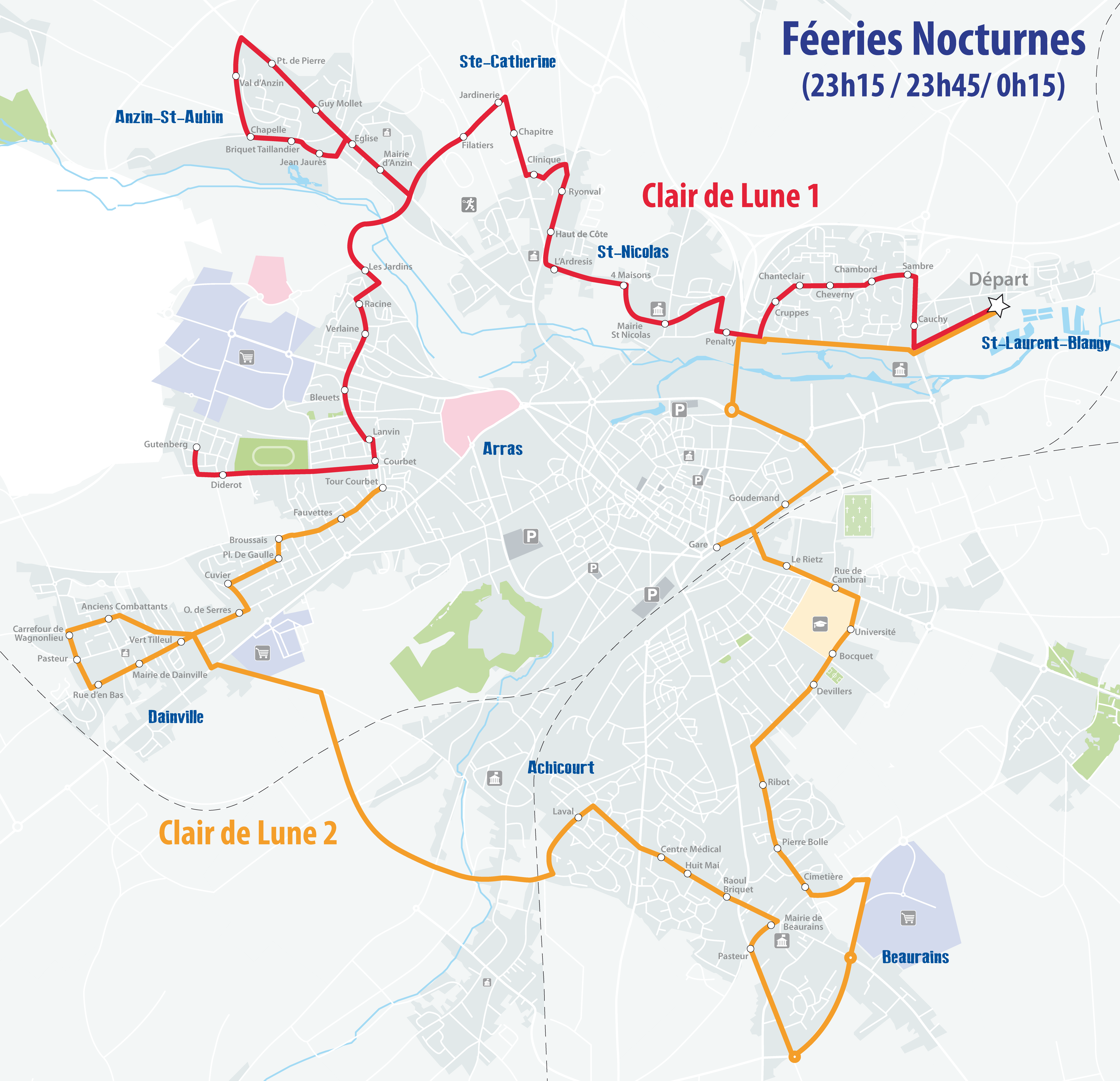 Parking your car :
FREE PARKING LOTS AND SHUTTLES
Free guarded parking lots will be available to visitors to the "Fééries Nocturnes (Sparkling evening Show) at St Laurent Blangy :
St Laurent Blangy Townhall
From the parking lots you will have two possibilities :
From 6.30 pm to 9 pm, you can take a free shuttle that will take you to the site entrance ; from there it will get you back to your car at the end of the show (from 9.45 pm to midnight).
Or you can walk across the town by taking "Rue de Versailles".
The Immercourt Park entrance is next to the Retirement Home EHPAD "Soleil d'Automne"
People with reduced mobility : To facilitate access to people with reduced mobility, arrangements will be made on the site as soon as they arrive with reserved parking spaces, access ramps to every performance people to help get to the grandstand and get back to cars at the end of the show Please contact us in advance to help organise your access.
Buses : Guarded parking lots.
Grandstand : It is entirely fitted out with numbered shell seats.
Weather Forecast : The performance will be maintained even if it rains. We recommend that you dress warmly and bring raincoats (umbrellas are not allowed on the grandstand). The site boutique sells ponchos among other items.
Pets : As a security measure pets are not allowed on the site during the performance.
Tablets cameras and film cameras : filming or using flash is not allowed. Tablets are forbidden. They could inconvenience other spectators.
Shop area : on the site you'll be able to buy dolls, ponchos and other items…
Means of Payment accepted : Cash bank cards, cheques, holiday vouchers and culture vouchers. Caution : no cash dispenser on the site of the show.